The new cultural center CaixaForum (Valencia) is built with Flovac's technology as a key element of the environmental sustainability that defines the building. For this reason and along its unique architecture, it is considered one of the most innovative constructions inaugurated this year.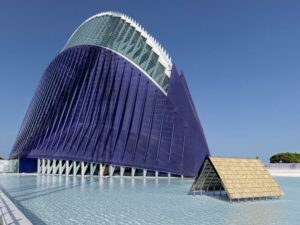 Located in the interior of the Ágora of what is known as the City of Arts and Sciences in Valencia, a complex devoted to scientific and cultural dissemination, the characteristics of the building made impossible to install downspouts for a gravity sewerage system. Due to this and to comply with its sustainability goal, they opted for Flovac's vacuum system. This system can be installed in a flat terrain, with a pipe network that can be placed in the ceiling or false ceiling. All this entails an unquestionable technical ease and a considerable saving in the building costs.
Indoor vacuum system without vacuum toilets
The novelty of this indoor system is that it does not use vacuum toilets, but a D90 vacuum valve box has been installed for each group of toilets, resulting in a more reliable and less maintenance-intensive system.
Vacuum sanitation is the most desirable one in structures where is essential the least impact possible, as to avoid an installation that requires a lot of construction and a complex and high consuming design, as to the protection of the terrain, as well as for a aesthetic reason. Flovac's pipe system is not conditioned to gradients due to the vacuum force and it works with no need of electrical supply, unlike gravity sewerage that needs bigger diameters and gradients and an electrical supply network and even pumping in case of not getting the needed gradient, with translates into a greater intervention in the area and a rise in the electrical bill.
Furthermore, the material used in this installation is based in PVC PN10 pipes. This material is characterized by having an even and no porous interior, with makes it more resistant to the agents related to waste water. It is relevant to emphasize that in the improbable case of a crack in the pipe network, exterior air enters the system, stopping it and avoiding any leaking of waste water and activating an alarm for its immediate repair.
Flovac is involved in all phases of the project
Flovac is a leading company regarding sanitation systems in Spain and around the world and to guarantee a perfect installation in Valencia's CaixaForum it was in charge of managing and support all the phases of the project, from the general audit, to the design, planning and launching of the sanitation system.